Despite my lack of posts and entire blog going offline for a bit, I continue to develop Hardpointe in my "free time". Progress did stall for the last half of 2018, but seeing all of the posts around 7DRLs earlier in Feb really pushed me to get back into making progress.
A lot of work has been behind the scenes since the last version. I did a lot of work to add a 'radial' menu. In an effort to reduce on-screen distraction and the number of button presses, when there is an ambiguous action, the radial menu pops up, and the available options always show up in the same spot. (e.g. 'Heave' is always the up key) It makes for much smoother gameplay.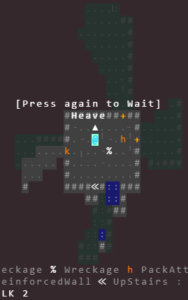 Enemy AI was also changed to make them less omniscient and more cautious about doors. There was an annoying habit for enemies to "wait" behind doors and punch you right as you walked in. This wasn't really by design. Now enemies take a turn to go from non-alert to alert statuses. So if you walk into a room and they DO happen to be behind the door, they will act surprised for a beat. That gives you an opportunity to attack, back away, or do something else.
I didn't do any power switching in this video but that menu has been streamlined as well. You can now just hit space + <slot to replace> and not have to page through multiple screens or even read anything if you don't need to.
Here's me dying on the 1st level because I messed up a dash somewhere and got hit. In a 3-hp game you really need to pay attention to every single hit. Apparently I'm a bit rusty.