Have been making steady progress on the core gameplay elements of hardpointe. I do feel like the end result is even a little bit.. fun? (Shocking to me most of all)
Here's a longer-play gif of the game in action, with slightly less-embarrassing colors.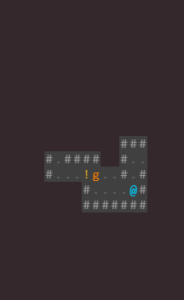 Current feature list:
All six initial powers:

Shield
Heavy Axe
Booster/Charge Attack (was originally jet pack?)
Cloak
Phasewalk (not sure if this one will make the cut)
Hack (turn enemies into allies)

One-off weapons (take up power slots but limited/non-rechargeable ammo)
Various combat effects:

Stun
Knockback (concussive)
EMP blast (in progress)

Enemy behaviors:

Basic melee
Keeps distance (ranged attack)
Explodes on death
Attacks in packs
Uses / recharges shield (in progress)

Terrain:

Chasms (if knocked into one you or enemies drop to the next level)

Combat mechanics:

Wall-smash
Corpse-tossing (heave enemy remains into other enemies)

Items:

Grenades (simple damage & effects)
Nanotech Cores (effects like acid and health – so far)
Whew. Seems a lot longer when I type it out. Stay tuned.