The latest version of hardpointe (I'm called it v0.2) is available to play here.
It's a bit more polished than the first version, with a number of ease-of-play fixes and more varied enemies.
Change log:
Screen/font can now be enlarged/shrunk
Auto-pickup of items
'Brogue-style' exits that you just walk into (this item and last item are meant to reduce over-reliance on the action key)
Removed redundant power install menu
No monsters in the starting room (whew)
Added fleeing enemies (Skirmisher)
Added shielded enemies (they will recharge if they escape): Skirmisher, Centurion
Added an EMP grenade that conveniently takes out shields
Fixed a bug with level changes caused by dropping through chasms (sometimes)
Added a final boss (sort of): The Archon. The only enemy in the game with more than 3 'health' (shields + hit points)
Made the asteroid 6 levels
Monster count & difficulty level scale better with increasing levels
Player starts with the Hack power (fairly OP but I have not done much balancing)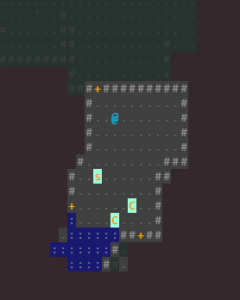 Shielded enemies and the EMP Grenande in action
If you've played it, leave me a comment here, or on /r/roguelikedev. Enjoy.